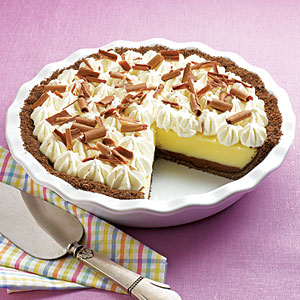 Black Bottom Vanilla Cream Pie
A gingersnap cookie crust is the perfect foil to the creamy vanilla filling in this cool cream pie, which costs just 76 cents per serving. Chill overnight, or for at least 3 hours, before serving. Perfect dessert for your Memorial Day's menu.
Ingredients:
9-inch baked gingersnap Cookie Crumb Crust
3/4 cup sugar
3 tablespoons cornstarch
1/4 teaspoon salt
2 1/2 cups milk
1 large egg
2 large egg yolks
2 tablespoons unsalted butter
2 teaspoons vanilla extract
2 ounces semisweet chocolate, finely chopped
1 cup heavy cream
1 tablespoon confectioners' sugar
Prepare crumb crust. Then combine first 6 ingredients in a medium saucepan, whisking well to blend. Bring to a boil over medium heat, whisking constantly, for about 8 minutes. Remove from heat and stir in the butter and vanilla.

Place chopped chocolate in a small microwavable bowl. Microwave at medium power for 1 minute. Stir and repeat. Stir and cook the chocolate 30 seconds more if necessary, or until smooth.

Remove 1 cup of custard from saucepan and stir into melted chocolate. Spread chocolate custard evenly in bottom of pie shell. Spoon remaining vanilla custard on top. Cover top of tart with a sheet of wax paper to prevent skin from forming. Chill vanilla cream pie at least 3 hours or overnight.

To serve, whip cream and confectioners' sugar until stiff. Spoon or decoratively pipe whipped cream on top of tart.
Enjoy!