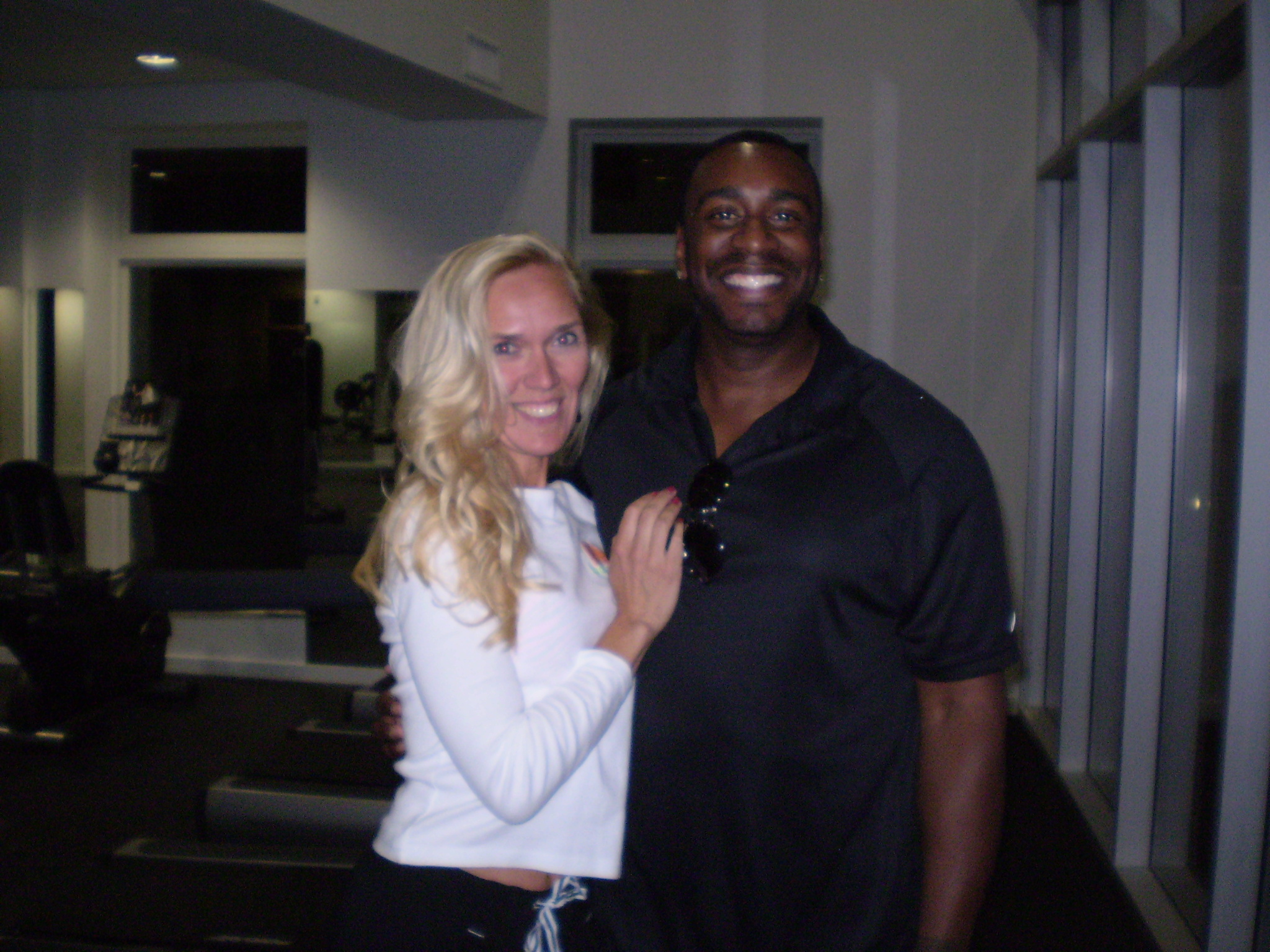 In the United States we have a lot of great professional fitness trainers. They have different stlyes and fitness programs what they love to follow. As I am a professional personal trainer and pilates master trainer as well I know that our guests love their trainers who are really addicted to their jobs. Even if here are a lot of trainers it is not easy to find a good one.
Well I know somebody here
in Las Vegas, who really loves his work, who is a great business man and a great trainer.
He is my good friend and I know he is always there for his guests and his other friends as well.
Charles M. Ware is the Executive Director of the Professional Fitness Institute in Las Vegas. Charles is a graduate of the University of Central Missouri in where he received his Bachelors and Masters of Science degrees in Exercise and Sport Science and A.T. Still University where he received his Doctor of Health Education degree. He is a member of the National Strength and Conditioning Association (NSCA), the American College of Sports Medicine (ACSM), the National Physical Activity Society (NPAS), the American Alliance for Health, Physical Education, Recreation, and Dance (AAPHERD), and the American Association of Health Education (AAHE). He is a certified Personal Trainer with the National Strength and Conditioning Association, a certified Lifestyle and Weight Management Health Coach with the American Council on Exercise, and holds a Physical Activity in Public Health Specialist certification in addition to the Exercise is Medicine® Credential Level II with the American College of Sports Medicine.
I wanted this interview with him as I strongly believe in his work and he has got a kind of personality what everybody loves!
– What was your "dream job" when you were a teenager?
As a teenager, I was pretty athletic and was very fast and the 1984 and 1988 Olympics fasinated me. I thought I would be and very much wanted to be an Olympic athelte. At that time, I was unaware that someone could actually make being a track and field athelete into a profession. Because of this mindset, I quickly abandoned that idea and went toward something that I thought was a "sturdy" profession and changed my dream job to police officer.
-How did you get started in fitness?
This is a two-fold story, the first part is that I got into fitness through athletic training. I got into athletic training through an injury that occurred during my sophomore year in college during track and field practice. During a routine practice, I partially tore my Achilles tendon and while the limited amount of teammates helped me to tend to my injury, the individuals who were not there to assist me were the atheletic trainers. They were all at spring foot ball practice leaving the Track and Field team with no one to provide care. After a few days of doctors visits, I left the computer science and marketing major and enrolled into Physical Eduation based solely on the fact that I wanted people to engage in injury prevention and to learn how to care for injured athletes. This is what probably led to me becoming a paramedic many years later.
-You lost a lot of weights in the last couple of months. What kind of diet do you follow?
It was intentional weight loss from unintentional weight gain. I wanted to be empathetic with my clients and individuals that I health coach. The majority of them have lost over 50 pounds, I set that as my goal on July 2nd and away I went.
 Going from a bulky 247 lbs and 21% bodyfat to 195 pounds and 9% bodyfat is an amazing transformation for anyone. In regard to diet, I will give you the straight truth. I only ate natural foods that you bought natural. If you had to open it to eat it, I didn't buy it. This includes soda's, breads, candy. I did have some all natural oatmeal raisin cookies from time to time.  I also exercised a minimum of 30 minutes, moderate to high intensity (monitoried by a heart rate monitor) every single day. One month during the 6 months of weight loss, I did an hour of high intensity exercise each day for 30 days in a row. I lost 18 lbs in that month alone!
-Most of the people usually give up their diets and exercise plans very soon. Do you have any tips for helping people stay motivated?
It all starts internally, once you change your mind, you can change your body. Getting to the action stage of the Trantheorectical Stages of Behavior Change, will ensure that you are on the right path. Once you get on that path, find positive people who will help get you moving on that path. They will help you support your goal. Thoese professionals include personal trainers, massage therapists, yoga and Pilates teachers, nutritionists and/or dietitians, chiropractors.  Then you need to find those individuals who positively enable your good behaviors when you are not around the professionals. These individuals (siblings, parents, friends, faith-based groups) help keep you on the right path, especially when you hit a bump in the road.
-What are the components of an effective fitness program?
I like to follow what the American Council on Exercise (ACE), (Bryant & Green, 2010) has included in what they believe the physiological training parameters should be. The standard of having a program that encompasses cardiorespiratory fitness, muscular endurance and muscular strength, flexibity works but tends to get boring and tedious and only moderately helps people achieve their goals. Programs that cover areas such as speed, power, balance, movement efficiency, agility and coordination  in additon to what is mentioned above, allow for the proper progression of first improving one's health, then developing their fitness, and finally enhancing performance.
-You are extremly busy . How do you find time to work out yourself?
Finding time is a matter of making time. The two biggest mistakes that people make are thinking they have to do all their exercise in one session and the idea that they will "wait and do it later". If you have the time to exercise, go and do it. There are countless number of minutes and hours that are wasted and if all were added together ot would leave plenty of time for anyone to exercise. For me, I make it a priority. I need and want to do 30 mintues of exercise a day to maintain my health, so depending on the day, I wake up and before I do anything else, I get my 20 minutes done on the stationary bike. Now I only have 10 minutes of physical activity left. This leaves me to do anything exercise or physical activity related, I want to. Four days a week, I occupy that time with added cardiovascular activity like running up to 3 miles or hopping into a group exercise class. Some examples of smaller time value activities are: I may stop and do 20 push ups or stop at the cable crossover machine and do 10 pull-ups. For a quick break in the day, I may walk on the treadmill for 5 minutes to clear my head thinking. I may jump in an instructors workout for a few minutes and go till I get a sweat going. Ultimately it is about commitment to your health and consistency to your routine.
Byrant, C.X., & Green, D.J. (2010). ACE Personal Trainer Manual. American Council on Exercise: San Diego, CA.
Marianna Szoke